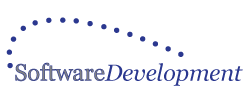 Software Development Process
All Spatial
Age
® software is created with the user in mind. Our exclusive Knowledge Mapping Process enables us, through observation and interviewing to identify exactly how users perform a business process from start to finish. This knowledge is encapsulated into Byers' User Objects and is the basis for all of our software applications.
With object-oriented programming and agile development methods we are able to deliver software in far less time than with traditional programming methods, and our Spatial
Age
® products will continue to evolve and improve after implementation.
Byers takes an aggressive yet structured and rational approach to the delivery of new software applications, and we are confident in the abilities of our people. This attitude is reflected in our approach to our Knowledge Mapping Process, Software Development Life Cycle, Training and Technical Support.
Whatever your planning, engineering, or infrastructure management software needs Byers is ready to assist you with our suite of Spatial
Age
® solutions or provide customized software development to help you meet your company's goals more effectively.
Contact us
for a free Business Needs Analysis.
Contact us for a free Business Needs Analysis.