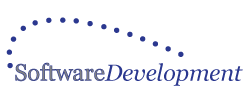 Software Development Process
All Spatial
Age
® software is created with the user in mind. Our exclusive Knowledge Mapping Process enables us, through observation and interviewing to identify exactly how users perform a business process from start to finish. This knowledge is encapsulated into Byers' User Objects and is the basis for all of our software applications.
With object-oriented programming and agile development methods we are able to deliver software in far less time than with traditional programming methods, and our Spatial
Age
® products will continue to evolve and improve after implementation.
Byers takes an aggressive yet structured and rational approach to the delivery of new software applications, and we are confident in the abilities of our people. This attitude is reflected in our approach to our Knowledge Mapping Process, Software Development Life Cycle, Training and Technical Support.
Whatever your planning, engineering, or infrastructure management software needs Byers is ready to assist you with our suite of Spatial
Age
® solutions or provide customized software development to help you meet your company's goals more effectively.
Contact us
for a free Business Needs Analysis.
Knowledge Mapping Process
Our Knowledge Mapping Process (KMP) focuses on process design, organization change, and technology infrastructure, and in doing so provides a comprehensive framework for initiating, designing, developing, and implementing change. This approach will optimize the business benefits derived from adopting a new software application. Our KMP approach has several advantages to support your company's direction:
Assists in defining and writing process business rules
Aligns the business objectives with the system requirements
Supports a "best practice" business model
Provides a business change framework for risk management, organizational change, and technical infrastructure.
We propose to use the KMP framework to first develop the architectural blueprint for the new software deployment. The business architecture model will form the foundation to orchestrate the migration to software solution. This blueprint will also be used to address the "softer side" of the business, such as organizational structure, stakeholder resistance, decision making, cultural impacts, rewards, recognition of individual skill sets, and training.

These organizational components will be designed to optimize the benefit from the new Software Application being proposed and ensure acceptance of the system over the entire enterprise.
Software Life Cycle Development (SDLC) Methodology
The Byers approach to software development methodology involves eight critical development phases. In each of the software development phases specific activities must occur to ensure the defined deliverables for that particular phase are completed on time and in a quality manner. Each software development project plan will contain a project schedule with the design steps clearly defined with milestone dates for each deliverable. Figure 1 below depicts the eight phases along with the associated deliverables.
Phase
Description
Key Deliverables

1

Requirement

Identification of the project manager
Preliminary requirement document containing the system analysis and requirement analysis design documents and estimates

2

Project Kick-Off

Initial scope analysis document
The project notebook, where a master copy of all critical documents, notes and correspondence are kept
Project status reports of the client
Project plan document

3

Analysis

Project schedule
Data modeling and dictionary specifications
Selection of hardware and software
Benchmark on targeted hardware and software
Project plan is updated
Scope analysis document
Preliminary Design meetings are held with the client
Prototyping begins

4

Design

Update functional design specifications
Update project schedule, data modeling and dictionary specifications
Functional design specifications (approved by the client)
Project schedule
Detail design document
Benchmark results
Test strategy document

5

Development

Update functional design specifications
Update project schedule, data modeling and dictionary specifications
Project status report
Review sheets and alpha/beta test strategy documents
Develop IT installation
Finalization alpha/beta test strategy document
Develop installation kit
Finalization alpha/beta testing, implementation, installation, contingency and verification plans
Draft user and training documentation

6

Testing

Update functional design data modeling and dictionary specifications
A project status report is issued
A testing results report is issued
Errors are reviewed, assigned, fixed and retested
Update user and trainer documentation
Develop implantation plan
Develop project demonstration

7

Verification

Update functional design, data modeling, dictionary specification
Final user and training documentation
Turn-over package
Final product demonstration
Open error reports, review, assign, and fix
Complete benchmark tests
Product status and verification reports

8

Installation

Install project (at client site)
Complete functional design specifications (part of the turn-over package)
Benchmark testing report
Alpha/beta testing report
Figure 1 Byers SDLC Methodology
Byers recognizes that a well organized and detailed software development methodology is required to fully meet the client's system design requirement. We are totally committed to following this development methodology which will result in producing and maintaining the highest quality, innovative, cost-effective, and most technologically advanced software application available in the industry.
Training

Byers is committed to providing clients with the highest quality, professional training available in the industry. We will also provide our customers with training materials for distribution internally as required. Courses designed to train the trainers will also be available if clients desire to conduct their own training classes.
Technical Support
Byers' Technical Support Center is focused on providing high quality customer support during and after the installation of our software applications. Our highly trained software engineers and customer service technicians provide technical support to our customers seven days a week, twenty-four hours each day.

We use the same development methodology for maintenance of software applications as we do for new projects. Any change to an existing system regardless of size and type is considered maintenance. Once the software application is operational each change is managed through a Change Control project with its own life cycle.

Listening to our customers and focusing on customer satisfaction will always be our number one priority at Byers.
Contact us for a free Business Needs Analysis.